Manufacturers, Exporters & Suppliers of Alloy Steel Flanges from Mumbai, India.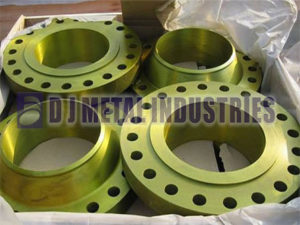 We are Manufacturer & Exporters of Alloy Steel Flanges. Welcome to the flourishing cosmos of D J Metal Industries  Quality-centered business house bringing wide assortments of Alloy Steel Flanges etc. We are one leading Alloy Steel Flanges Manufacturers, incepted in India. 
D J Metal Industries was established in 2016.We are one of the leading Manufacturer & exporters of Alloy Steel Flanges.
Alloy Steel Flanges are available in Slip On, Blind, Weld neck, Socket weld, Threaded, Lap Joint, Orifice and Spectacle Blinds, Tongue & Groove & Ring Joint Types, Vacuum Flanges, Exhaust Flanges, Profile Flanges and are offered in Alloy Steel.
Pressure rating class of 150, 300, 600, 900, 1500 & 2500 and size from 1/2" NB to 64" NB sizes Flanges are manufactured as per ANSI B 16.5, B16.47, MSS SP 44, API, BS, AWWA, DIN standards.
1. ANSI STANDARD
Type :
WNRF, SORF, BLRF, Threaded, BLRTJ, SORTJ, WNRTJ etc.
Dimension :
ASME B 16.5
Material :
Alloy Steel: ASTM A 182, Grade F1, F11, F22, F5, F9, F51, F91 (IBR & NON IBR)
Nickel Alloys: Monel 400 & 500, Inconel 600 & 625, Incolloy 800, 825, Hastelloy 904

Pressure Rating :
150#, 300#, 600#, 900#, 1500#, 2500# Class
2. DIN STANDARD
3. B.S. STANDARD